LANDSCAPE DESIGN & INSTALLATION SERVICES
Family Owned and Operated for 23 Years
PROUDLY SERVING THE GREELEY COMMUNITY AND SURROUNDING AREAS FOR 23 YEARS
LANDSCAPE DESIGN & INSTALLATION
COMMERCIAL AND RESIDENTIAL
Schedule an appointment with owner Tim Pribble who will personalize the landscape design experience for you while working with your budget. With over 23 years of experience, Tim will create a landscape and irrigation system designed to meet your specifications.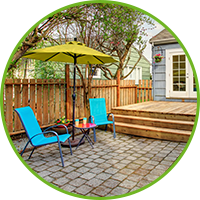 PATIOS, PATHWAYS AND RETAINING WALLS
Whether its a brand new patio to host parties and family barbeques, a pathway to your gardgen, or a retaining wall to contain your shrubs and flowers you wont be disappointed.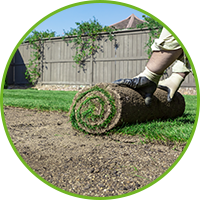 SOD INSTALLATION
Professional sod installation includes sod, the delivery, and complete cleanup. All sodded areas must be watered adequately as soon as possible. The key to establishing new sod is to keep it properly watered for the first month.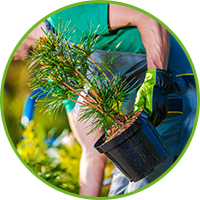 PLANTS AND TREES
Planting trees in Colorado can be done in the early spring (March 15 – June 15) or late fall (September 1 – October 15).
Begin by digging a hole large enough that when the root ball is in the hole there are six inches on all sides to allow for root growth.
Plant the tree or shrub root ball slightly above the ground level soil to allow for settling and drainage.
Handle the plant or tree by the root ball, not the trunk, a broken root ball often results in a dead plant.
Do not use soil amendments when planting large shrubs or trees, use the soil that was removed while digging the hole to backfill. It is then crucial to water thoroughly to eliminate air pockets and help the soil to settle.
Do not fertilize after planting, you can use a small amount of fertilizer in the spring.
The last step is to add four to six inches of mulch around the base to hold in moisture.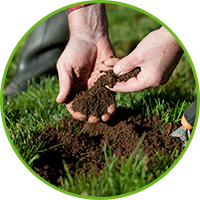 SOIL PREP
To prepare the soil, we'll clear the area to be sodded of rocks and debris. Next, we will use premium compost that is tilled into the ground, between four to five cubic yards per 1000 sq. ft. of turf. The area will then be graded before the sod is installed. Soil prep can help your yard use up to 20 percent less water.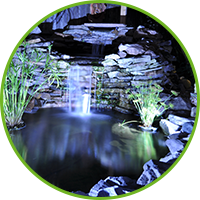 LANDSCAPE LIGHTING
Landscape lighting adds beauty, character, and safety to your home. Outdoor landscape lighting is designed to discreetly illuminate and keep your landscape at the center of attention.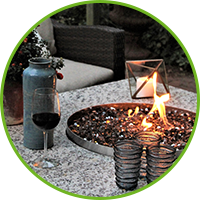 FIRE PITS
Fire pits create a warm focal point and create a natural gathering spot for socializing or relaxation.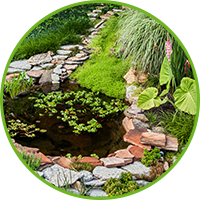 WATER FEATURES
Water features bring a touch of tranquility to your garden or any outdoor space and are peaceful and relaxing.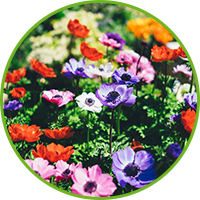 GARDENS
Make your garden useful and attractive, whether it's growing new foods or creating a relaxing place to enjoy loved ones.